Empowering Women in Renewable Energy: Insights from SMA Leaders Live from RE+
Women in Renewable Energy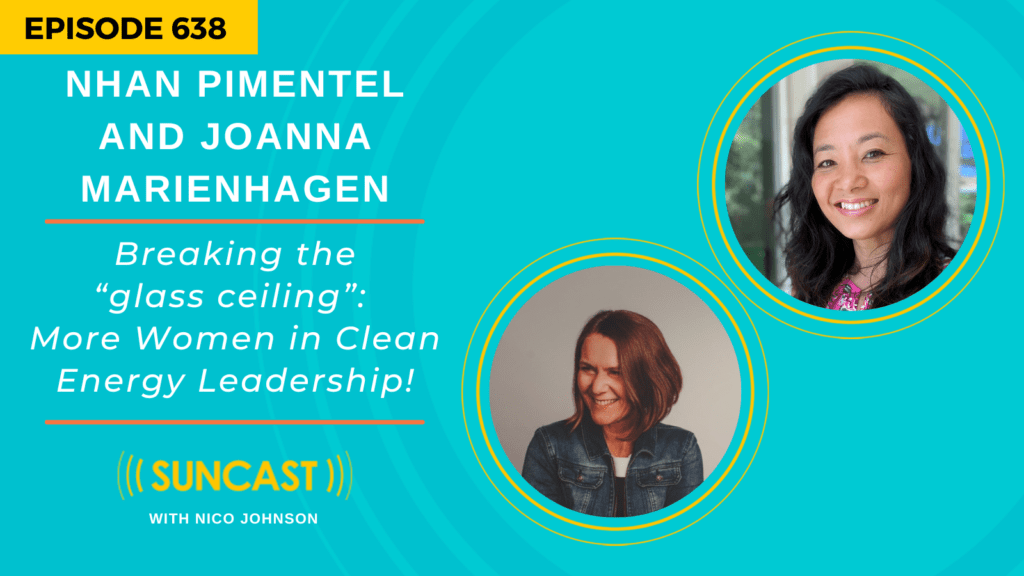 Breaking Barriers in Renewable Energy
In recent years, the renewable sector has boomed as global governments are embracing the renewable energy transition. The world has turned its attention towards a more sustainable future and as the market evolves, individuals look to companies and influential leaders to impact change as well as pave the way for others to follow.  SMA is paving the way with sustainable products and a diverse team. SMA understands that team diversity and leadership is critical to success.
Meet the SMA Leaders: Nhan Pimentel and Joanna Marienhagen
In the latest episode of the SunCast Media podcast, Nhan Pimentel, Vice President of Home Solutions and Joanna Marienhagen, Head of Portfolio Management and Solutions Development share their personal experience and lessons learned in a male-dominated industry. The experiences and thought leadership shared is applicable to all, however the hope is that it inspires and empowers more women to join this renewable energy revolution.
While women have made significant strides, there remains an underrepresentation in crucial technical and leadership roles. Women account for merely 22% of the energy sector workforce and 32% in the renewable energy sector. These numbers underscore the pressing need for continued efforts to bridge this gender gap and harness the full power of diverse talent in the industry.
Inspiring the Next Generation of Women in Renewable Energy: Strategies for Success
Nhan and Joanna illuminate the discussion, sharing their personal stories and strategies for success. They dive into the importance of self-branding, communication skills and flexibility. The interview highlights the value of diversity in fostering creativity, problem-solving and healthy team dynamics.
"When I made the transition from telecom to solar, I learned the power of not boxing yourself in," said Nhan Pimentel. "I challenge individuals to rely on their grit, tenacity and ability to learn. If you focus on those skills, success will follow."
Importance of Diversity and Leadership
Both Nhan and Joanna proudly share about how their career at SMA skyrocketed them to new heights of leadership and personal development. The duo detailed how to focus on what individuals want from their careers and to be assertive enough to advocate for new roles and opportunities.
"I had to be bold and clear about what I wanted," said Joanna Marienhagen. "I negotiated what my job would look like to transition from one path to the next."
Skills for Advancement
Host Nico Johnson asked both Nhan and Joanna what skills are necessary to move from individual contributor to manager to executive. The common threads include self-confidence, self branding, communication that resonates with each audience, and curiosity.
SunCast Podcast: Insights into Clean Energy Leadership
Nico is the creator and host of SunCast, consistently rated a top solar podcast in the clean energy sector. The content of the show is geared towards listeners looking for insights on where the markets are headed, how to position themselves or their companies, and what today's market leaders do to stay ahead of the pack.
"Companies like SMA that appreciate diversity provide a more conducive environment for women to excel in the renewable energy field," said Nico Johnson, host of the Suncast podcast. "I love that they were able to also be vulnerable about how they stayed true to their career goals while leveraging their platform to help build their personal and professional brand while improving brand recognition and affinity for their employer."
https://en.sma-sunny.com/wp-content/uploads/2023/10/Image-3.jpg
1024
1024
Alexandra Alejandro
/wp-content/themes/enfold-child/images/SMA-LOGO-Color_s-1.png
Alexandra Alejandro
2023-10-10 19:04:55
2023-10-10 20:59:38
Empowering Women in Renewable Energy: Insights from SMA Leaders Live from RE+